Discover the species
to fish across the North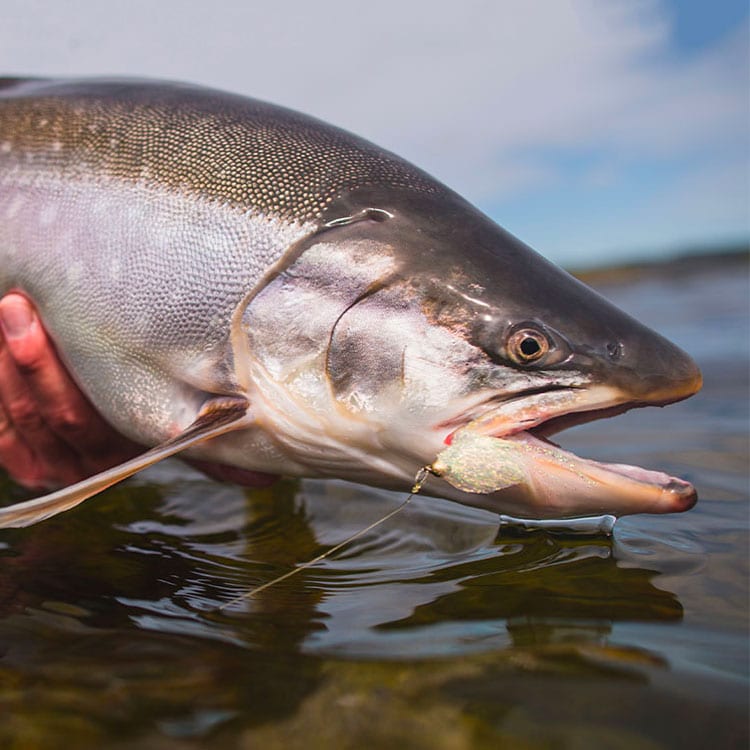 Arctic Char
For a unique thrill
This species is highly sought after, both for the quality of its flesh and for its vigour and combativeness. Anadromous Arctic char (salt water), mainly found in northern Quebec, lives in the sea and spawns and spends its winters in fresh water. Its steel blue back with silver flanks changing to bright red during spawning in autumn is dotted with large pink, red or cream-coloured spots. From fly anglers to those fishing with light tackle, anglers from all stripes will enjoy challenging this species with the advice of an experienced guide.
Rainbow trout
A powerful fish with delicious pink flesh
Voracious with its predatory appetite, rainbow trout is also known for its legendary leaps out of the water before going into the landing net. It is excellent, both smoked and fresh. Rainbow trout feed on a variety of food sources, which allows anglers to work with a choice of lures, flies and baits. It is recognized by its bluish, greenish or brownish back, its silver flanks with a broad pink horizontal stripe that is almost red (very evident during spawning) and several small black spots.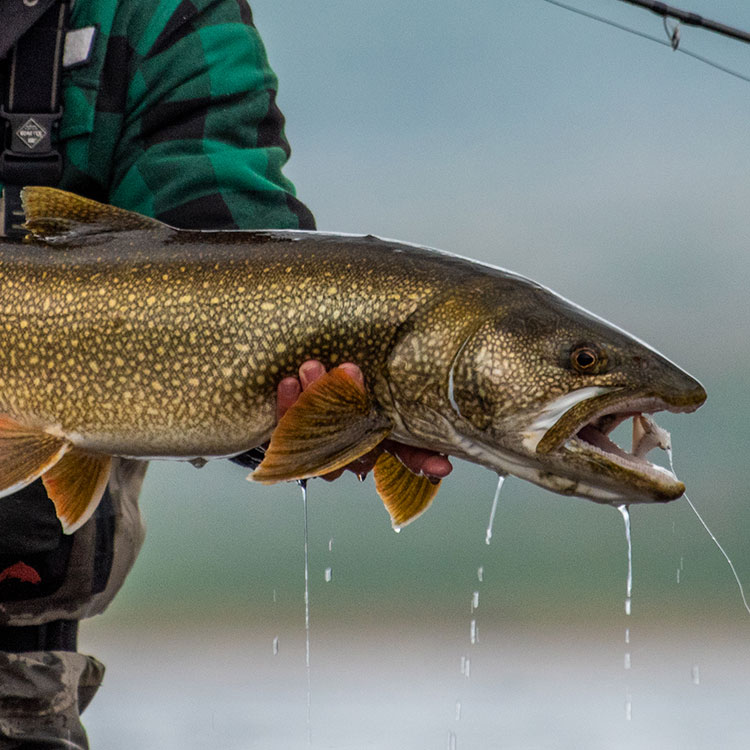 Lake trout
The monster of the North
Cautious but greedy, lake trout make for a good trophy capture. Found mainly in deep southern lakes, this fish is also found in rivers and in some shallow northern lakes. Lake trout is a piscivorous fish that reaches impressive sizes. One of the frequently used fishing accessories is called the downrigger, the English name for a device that allows you to descend and maintain the line and lure it to a given depth. The fishing rods and reels used are also different, because they can manage a large length of line behind the moving boat. Ultimately, lake trout fishing is a specialized type of angling where the fisherman must combine patience and strategy.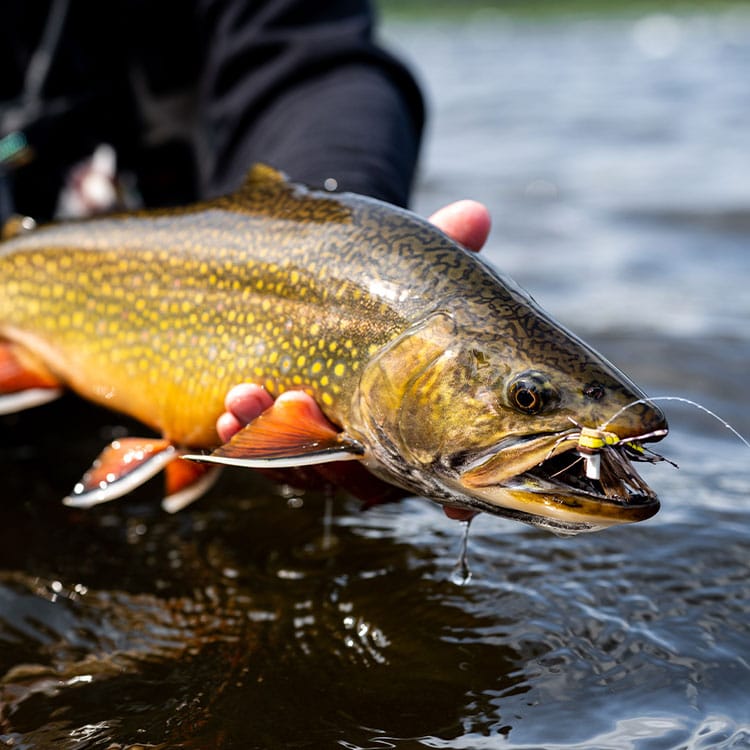 Brook trout
Star species to discover
The geographical distribution of this species is widespread in Quebec.The species is primarily found in lakes, although river fly fishing presents an exciting challenge. Since it is relatively easy to catch due to its voracity, brook trout lends itself well to different techniques like trolling, casting or still fishing. The colour of this fish is highly variable depending on the habitat and becomes more intense during spawning when the abdomen of the male turns bright orange.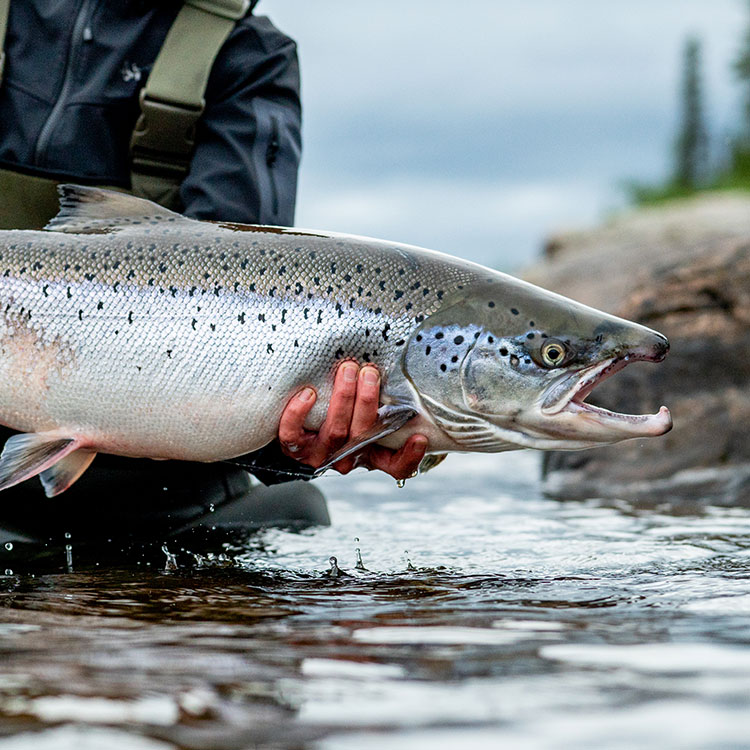 Salmon
A world-renowned product
Considered by many fishermen as the king of sport fish because of the titanic battle it holds with fishermen, the Atlantic salmon is caught here exclusively with fly fishing and only in rivers. Indeed, it is when it goes up its native river after a stay of a few years at sea that the salmon is the object of well managed and highly regulated sport fishing. The release of broodstock is practiced in a large number of rivers and constitutes a systematic practice in the majority of outfitters, thereby contributing to the perpetuation of this sought-after species. The variety of outfitting establishments that offer salmon fishing is a living testimony to the history and heritage associated with this activity.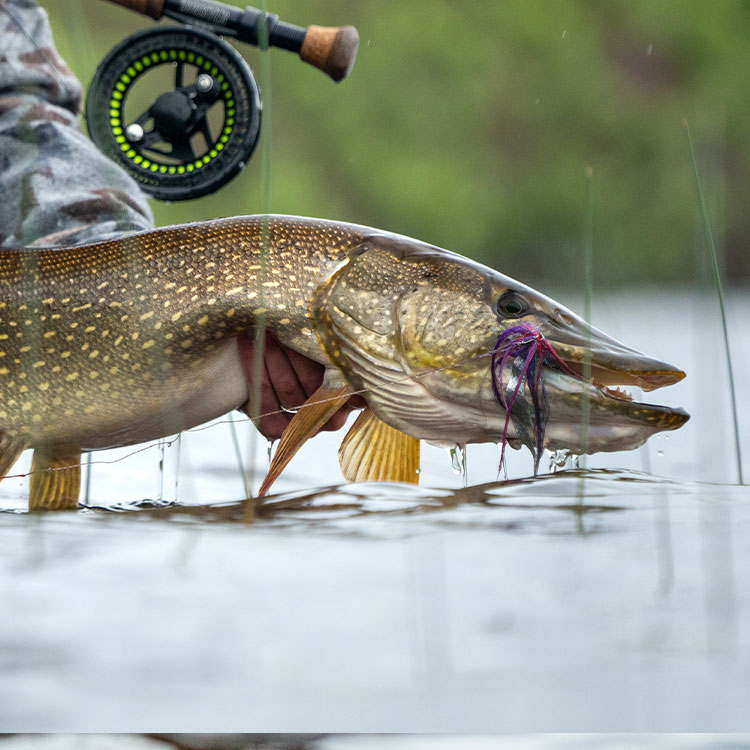 Pike
A veritable freshwater shark
A game fish par excellence because of its sometimes impressive size and its voracity on almost any fishing lure, the pike has powerful jaws with nearly 700 teeth. It is an avid predator and anglers exploit this characteristic by using artificial fish, spinning and wobbling spoons, jigs as well as floating crankbaits and imitation frogs in its habitat. When a pike bites, a real fight begins; the bigger the pike, the bigger the fight! Given the pike's many teeth, it is strongly recommended to use a steel leader for fishing and pliers to remove or cut the hook once the beast is under control. It is also characterized by its large eyes on its long head and its big mouth, which feature prominent and sharp teeth.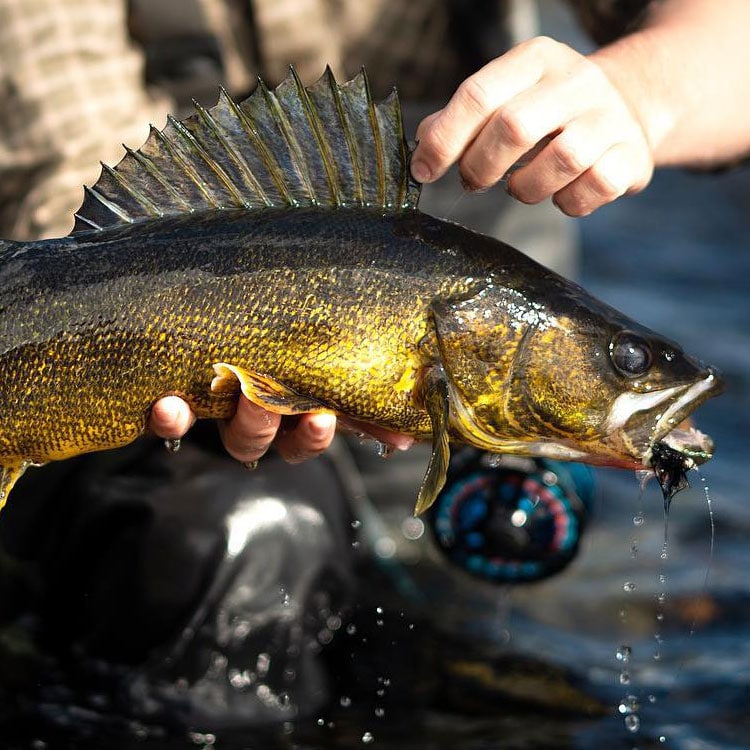 Walleye
A good fight for a good meal
A beloved and prized fish for many anglers looking for an exciting fishing adventure and delicious meal! This species benefits from special regulation that protects breeding individuals. In some places, large specimens are released. The challenge of a walleye fishing excursion is to find where a school of them is hanging out. Since this species prefers to avoid light, anglers must therefore trick the fish through the use of subtlety and skill to grab its attention and then notice its subtle bite before it is too late. It is distinguished by its olive / yellow-brown scales, its spiny dorsal fin and its sharp teeth. For optimal success, it is best to purchase an outfitter package that often includes an experienced fishing guide.
Recommended types of fishing
Fly fishing
If you haven't already, try this type of fishing using a "silk" line and a "cast" at the end of which an artificial fly is attached to tease the fish. Once you have mastered the throwing technique which is an art in itself, you can vary the colour and depth of the flies according to the season.
Light cast
fishing
Although some species such as Atlantic salmon favour fly fishing, light tackle fishing adapts very well to all other species. By choosing the length and the strength of your line as well as adapting your hook to the particularities of the species and the body of water, you will undoubtedly enjoy a good fishing escapade!
Catch
and release
Catch and release is an increasingly popular gesture of conservation among fishermen. Sometimes imposed for compliance with the regulations in force, the adequate release of larger specimens is also encouraged to ensure a good evolution of the species.
Guided fishing
Make the most of your experience by calling on an experienced guide who will make sure to lead you to the fish! Maximize your chances of harvesting through the good advice and techniques adapted to the territory and the species in question. Going on an accompanied excursion is a safe and pleasant way to take on the Nordic fishing experience.